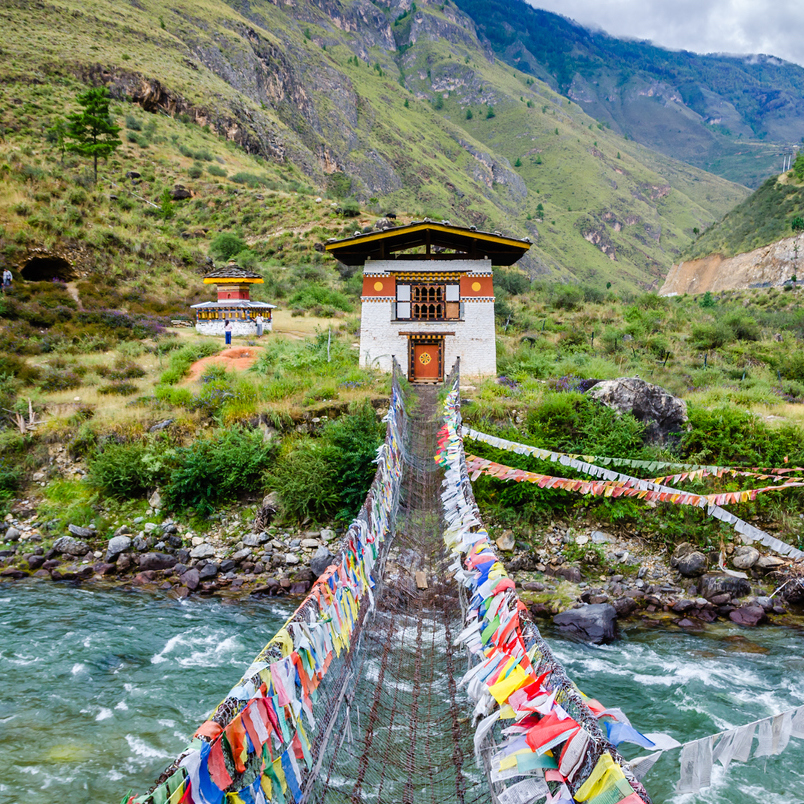 Overview
Please take a few moments to watch this VIDEO from Keith and Michelle prior to booking. It highlights the most important information that we want to point out.
The last Buddhist Kingdom in the world, this beautiful, largely unspoiled country nestles in the foothills of the Himalaya between two of the most powerful countries in Asia – India and China. With tourism not starting until 1974, Bhutan remains one of the most isolated countries in the world, and its culture and traditions remain very much intact. With one of the world's greatest concentrations of mountains, the experience begins with the flight into Paro offering close up views of Mt Everest, Mt Kanchenjunga and other great Himalayan peaks. Once on the ground, this is a country of high rugged mountains and deep shadowy gorges, cloaked in dense primeval forest, resplendent with rhododendron blossom in the spring and offering ecosystems that are both rich and diverse. The full glory of this ancient land is discovered through majestic fortress – like dzongs , numerous ancient temples, monasteries and stupas which take prime position in this picturebook landscape. This unique architecture embodies Buddhist culture and sets the scene for the spectacular tsechus (dance festivals) that take place throughout the year. The tsechus are a rich and happy expression of the ancient Buddhist culture; an important social occasion for the community and a period of deep prayer and meditation for the monks who perform the masked dances. The true charm of this tiny kingdom must surely lie in its use of Gross National Happiness as a measure of development, placing real value on such things as heritage, health, education, good governance, psychological wellbeing and community spirit. The people of Bhutan are warm and welcoming, and you will easily become immersed in their traditional way of life.
The Druk Path trek leads from Paro to Thimpu, crossing stunning natural landscapes through blue pine forests, dwarf rhododendrons, high ridges and crystal lakes.
The Buddhist Kingdom of Bhutan lies along the lofty ridges of the eastern Himalayas, bordered by China (Tibet) to the north and northwest, and by India on the east, south and west. With an area of 46,500 square km., Bhutan is comparable to Switzerland both in its size and topography. The mighty Himalaya have protected Bhutan from the rest of the world and left it blissfully untouched through the centuries. The Bhutanese people have protected this sacred heritage and unique identity for centuries by choosing to remain shrouded in a jealously guarded isolation.
Often referred to as the 'Land of the Thunder Dragon', this tiny Himalayan Kingdom, nestled between India and the People's Republic of China in the Eastern Himalayas, is one of the most isolated nations on earth. Each part of Bhutan has its own historical, geographical, cultural and religious significance, and any visit to this beautiful and largely unspoiled setting will combine spectacular mountain terrain, ancient monasteries, rich flora and fauna, and a vibrant Buddhist culture. The Druk Path trek is a four day trek, crossing the spectacular natural landscape between Paro and Thimphu. Our tour begins with a visit to the stunning Tiger's Nest Monastery, located high on the cliffside of the upper Paro valley. We then start our trek, a journey through rhododendron forests and alongside glacial lakes, against a backdrop of snow – capped mountains and dramatic valleys. Along the way you will discover more about the history of Bhutan through unspoilt villages, ancient lhakhangs and dzongs. After completing the trek, we will include city tours of Thimphu and Punakha before returning to Paro.
**Please note, these adventures are planned far in advance, and sometimes things come up that are unforeseen or unplanned. With that forethought, know the group will be accompanied on this adventure by Keith, or Michelle, and/or My1FitLife Ambassador. Activities on the itinerary are subject to change based on guides, weather, availability, etc. **


Accommodations: 2 night hotel stay before and 3 nights after the trek on a full board basis



Airport Transfers: All airport transfers



Visa: Entry Visa to Bhutan



Government Fee: Government Royalty Fee



Local Guide: A fully supported trek with a qualified mountain guide



Food & Drink: All food and drinking water on the trek



Entrance Fees: Monument and monastery entrance fee


Airfare: International airfares and transit visas to and from



Travel Insurance - REQUIRED ITEM- Not included



Tips: Tips for guides and porters



Personal items



Gear: Personal Trekking Gear



Medicines: Your personal medicines or prescriptions



Beverages: Non-alcoholic and alcoholic beverages
Excursion to Taktshang Lhackhang
Jangchulakha to Lake Jimgelang Sho
Lake Jimgelang Tsho to Simkota
Travel insurance
Travel insurance is designed to help cover your expenses if something goes wrong on your trip, and fill any gaps that wouldn't be covered by your primary health insurance or other insurance you may have. It's not meant to be a substitute for health insurance and won't cover non-essential overseas medical treatment, such as routine exams.
Address
My1FitLife Adventures
1627 W. Main 257
Bozeman MT 59715
United States