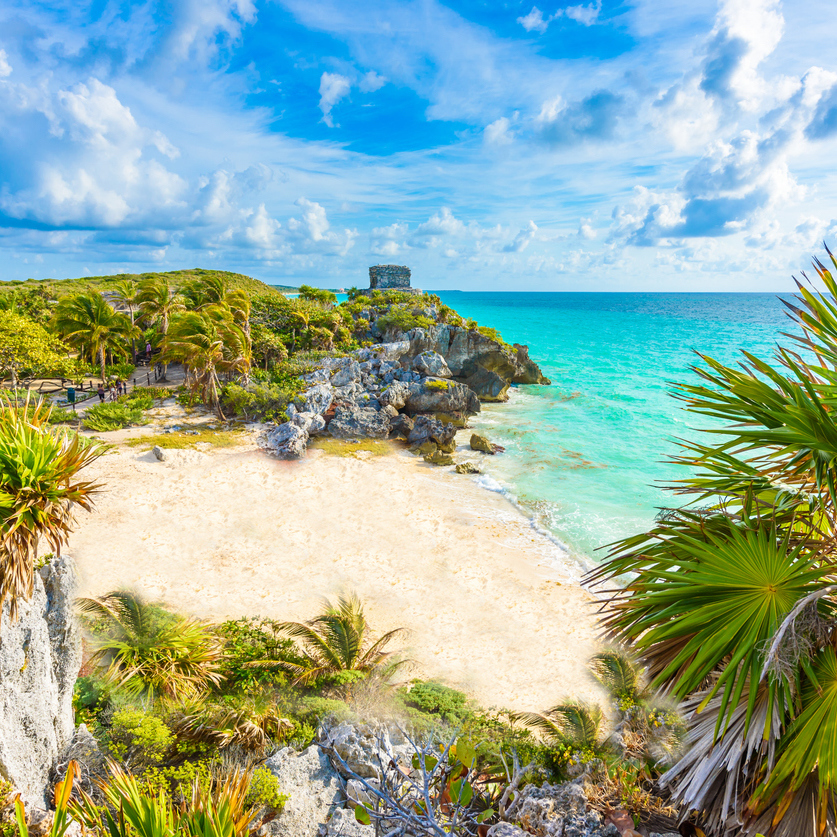 Overview
Come join us in beautiful Tulum Mexico. Mayan ruins tower over the sea in Tulum. The formerly walled city was one of the last to be built by the Mayans, and its archaeological sites are incredibly well preserved. Take a break from the beach to visit El Castillo, the Temple of the Frescoes, and the Temple of the Descending God. Explore an underground river under a canopy of stalactites in the sacred caverns of LabnaHa Eco Park, or dive into Cenote Dos Ojos to snorkel inside of caves in the middle of a forest.
Our "Wellness Resort 'home'" is located on the Riviera Maya. Between the pristine blue ocean and the emerald green tropical forests and jungles, is nature in all of its splendor.  Think of paradise in these terms: laying in a hammock under the shade of a palm tree, facing beautiful white beaches, sipping a cool drink, and enjoying the warm but refreshing breeze caressing your skin.
The Riviera Maya offers endless adventures. From tranquil sea coves, bays to rougher more open ocean, transparent lagoons, mysterious water springs with landmarks, vestiges of a culture thousands of years old, or the world's second longest reef which stretches from Quintana Roo to Honduras. There are also a variety of beach and water sports to choose from, with places offering all the infrastructure and services you need. Take full advantage of your getaway and relax on the beach to the ever-present rhythm of the waves.
Our accommodations range from breezy beachfront suites to cozy garden rooms to meet all budgets. From serene  beachfront bungalows to budget basic rooms to spacious rooms to be shared with a friends. Our architecture embodies the signature eco-chic style of Amansala that includes smooth cement surfaces with traditional thatched roofs. Multiple staircases weave together and connect the various spaces within the resort giving it the feel of a modern day Swiss Family Robinson treehouse. All rooms are light, airy & beautifully styled with our eco-chic signature bohemian feel.
Location of Adventure:
Tulum Quintana Roo, Mexico Located approximately 2 hrs south on the coast from Cancun
Eco Chic Resort & Spa
Come join us in Tulum Mexico…exploring Mayan ruins, temples, snorkeling, sweat lodges, clay mediations, biking, massages, relaxing, amazing food and so much more!


Transportation: to & From Cancun Airport (at specified times); Group transportation to Adventures while in Tulum



Food: Meals during retreat - Friday Dinner; Sat-Wed - Breakfast, Lunch, Dinner; Thurs - Breakfast. One dinner offsite (not included).



Personal Growth Session: Coaches MIchelle and Keith will be asking you to dive deep and work on mental blocks all weekend long.



Meditations: Morning/Evening meditations with Coach Michelle



Movement Classes: Coach Michelle will be teaching TRE daily and Coach Keith will be coaching on mobility



Massage: Get a relaxing massage and unwind from outdoor activities. One per attendee.



Cacao & Sound Healing: Take a journey into the heart of a cacao ceremony guided by meditation, chanting, music, and cacao's magical properties.



Mayan Clay Meditation: Come experience a fantastic meditation session using Mayan Clay. One per attendee / group activity.


Airfare - Any Airfare NOT included in registration price



Food & Drinks: You will be responsible for ALL your own food and drinks, except what is on the agenda. One dinner is offsite and not included.



Transportation: Any personal transportation during free time.



Travel Insurance - REQUIRED ITEM- Not included
Arrive in Cancun Mexico and Transfer to Tulum
Travel insurance
Travel insurance is designed to help cover your expenses if something goes wrong on your trip, and fill any gaps that wouldn't be covered by your primary health insurance or other insurance you may have. It's not meant to be a substitute for health insurance and won't cover non-essential overseas medical treatment, such as routine exams.
Address
My1FitLife Adventures
1627 W. Main 257
Bozeman MT 59715
United States